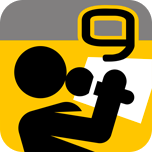 Grinta Karaoke support page
---
---
Connections
To play MIDI files, iPad must be connected to an external sound module, like Mixlight or X-Light by M-Live, via the Camera Connection Kit and a USB cable (see picture).
MP3 and MP3+G files can be both played directly from iPad or using a compatible external sound module.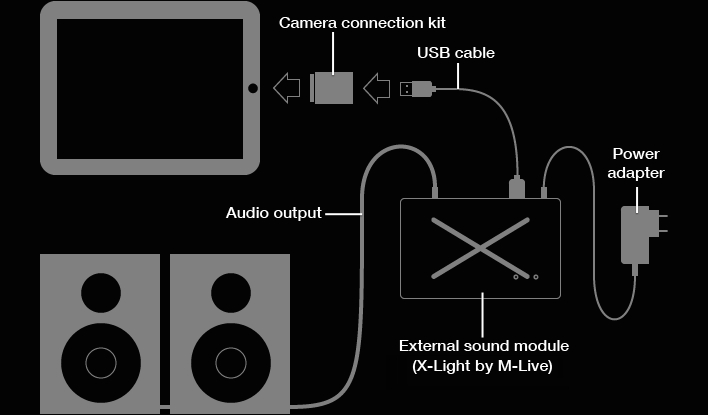 Starting with version 2.0 of Grinta Karaoke, the iPad's auxiliary video output has been enabled to allow you to display the Karaoke lyrics on an external display. To do this, simply connect the Apple Composite AV Cable (or a compatible third-party accessory) to the dock connector port and use a TV screen with composite inputs.
NOTE: using this configuration, it will no longer be possible to use an external sound module for sound generation.
---
Music library
You can add songs to Grinta iPad Karaoke library by importing them from your computer through the appropriate section in iTunes (read more).
To add files stored on your computer using iTunes, just follow these simple steps:
connect your iPad to the computer and wait for iTunes to recognize it (it will appear in the topbar);
after selecting your device, click on "File Sharing";
select "Grinta Karaoke" from the list of available applications;
click on "Add ..." and select the files on your computer that you want to import (you can only import files with the following extensions: .mid, .kar, .mf3, .mf4, .mp3, .cdg).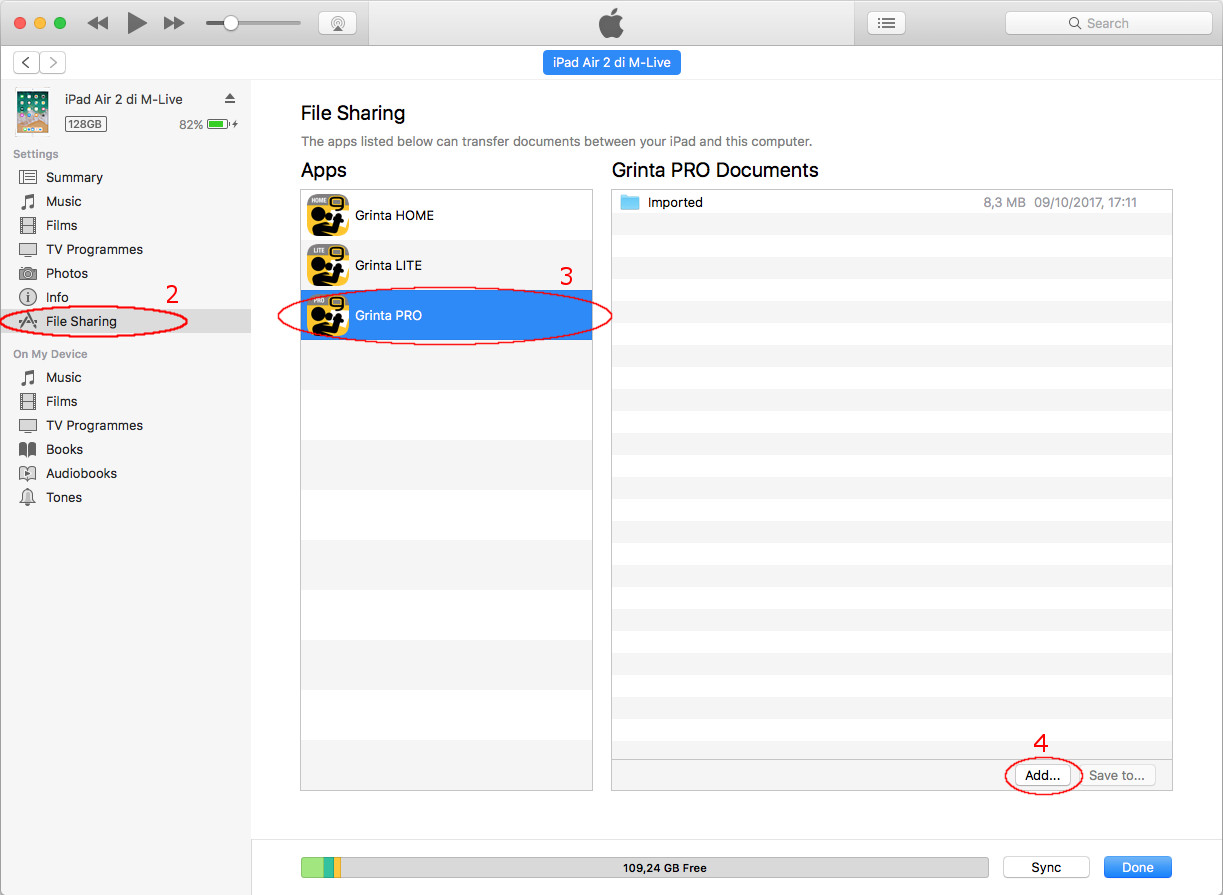 After disconnecting your iPad, launch Grinta Karaoke and your files will be automatically imported into the Library.
TIP: The "Recent" playlist contains the last 50 imported songs for quick access.
---
Song Service digital store
Starting from version 3.0, Grinta karaoke has a digital store built right into the app: the Song Service.
Song Service offers immediate access to thousand of backing tracks in both MIDI and MP3 formats with karaoke lyrics.
Using Song Service is very simple.
Access
If you already use Song Service, just sign in with your account by entering e-mail and password in the Grinta Karaoke dedicated section.
If you don't have a Song Service account yet, you'll need to get one, before accessing via Grinta Karaoke.
Purchase an AllSongs subscription for get unlimited access and download all the backing tracks in our catalog.
AllSongs Subscriptions
AllSongs subscription is the best way of reaching the Song Service huge catalog of backing tracks. For the duration of the subscription, it is possible to use an unlimited number of songs as backing tracks in both MIDI and MP3 formats.
The songs downloaded whitin the duration of a subscription will have a clock icon

next to them and will remain available to the user for the specified period.
When the subscription expires the songs still remain visible in the library (with a warning icon

) but won't play unless a new subscription is activated.
---
---

Grinta Karaoke has been developed by M-Live, leader in Italy for the MIDI and MP3 music entertainment industry. M-Live has also launched Songservice.it, the online music store with thousands of backing tracks and digital scores.
Please contact us at grinta-app@m-live.com for any comments or questions.
Grinta® is a trademark property of M-Live Srl. All other product names and images, trademarks and artists names are the property of their respective owners. iPad® and iTunes® are trademarks of Apple Inc., registered in the U.S. and other countries.